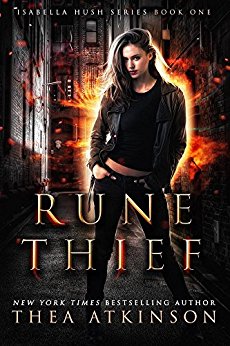 What she steals may be priceless, but what she can't see will cost her.
Isabella Hush may be a talented thief, but her past is about to creep up on her.
In need of quick funds to escape a nasty ex and his henchmen, she takes a chance on a rumored cache of Incan gold. But the heist goes terribly wrong and she ends up inebriated in a dark alley with a strange man dying at her feet.
Against her better judgement, she pauses to help, and out of habit, picks his pockets. Then the man disappears without a trace, leaving nothing behind but filthy cobblestones, and she begins to think she imagined it all.
That is, until the next morning when she finds the pilfered items in her apartment and a strange mark on her arm. Before long, she discovers there's a supernatural realm seething unknown beneath her feet. And she just might long for the simple days of a heist gone bad…
Because now she's not just being hunted by dangerous men, she's being hunted by dangerous immortals. $2.99 on Kindle.