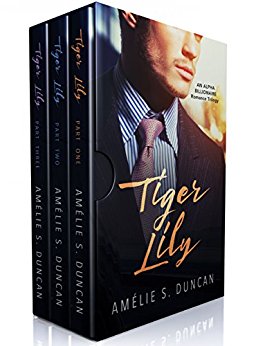 Get the complete Tiger Lily Trilogy from author Amélie S. Duncan!
Part 1:  An assignment becomes o much more
There's not much that can surprise or scare Lily Salomé. Until her path collides with that of Jonas Crane—a sexy, brooding business mogul. As their companionship blossoms, obstacles arise that challenge everything they've worked for. Is this mouth-watering billionaire too far out of Lily's league?
Part 2:  In her lowest moment, Lily receives help from an unexpected source…
Though Lily refuses to see Jonas, he sends his ex-wife, Dani to watch over her. Ashamed to admit Declan has physically abused her, she lies to Jonas and to herself. Now the lies have taken on a life of their own. She breaks up with Jonas, the only man she's ever loved–protecting him the best she can, but martyrdom is a heavy cross to bear. She's so wounded, she's loses her instinct for self-preservation.
Jonas won't stay away. He invades her dreams with his hard body and soft caresses, then her life–using her body against her. Her pain is no match for the memories of their steamy past and the protective tenderness Jonas now wraps around her. Lily realizes she and Jonas have more in common than their sultry sexual companionship…they both want family–the sweet intimacy of belonging.
Part 3:  Healing Two Hearts. Creating One Memory.
Lily loves Jonas but implicit trust is another matter. After all, they've been through, she still can't believe he'll stay no matter how deep, how dark her secrets. With her ex, Declan, up to his worst, Lily's embarrassed and ashamed…but she's underestimated Jonas.
$0.99 on Kindle.