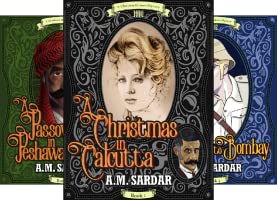 A re-imagining of the Great Detective and his partner as Charlotte Holmes, a traumatized woman, and her companion Dr Watan, an Indian doctor, as they investigate nefarious activities in the British Raj at the dawn of the 20th century.
Charlotte's mercurial nature and post-natal depression, following a miscarriage, make it difficult for people to accept the truth of her investigations. It's only when Dr Watan helps her do they succeed in thwarting the conspiracy.
Their friendship develops over the course of the books but Watan finds her brother Branwell a handful, however their friendship grows as he becomes an important part of the stories.
Lovers, husbands, wives and relatives all add to a growing cast of characters as the various tensions of colonial rule are explored and eventually lead to a conflict as Watan must decide between his political and personal loyalties.
The series continues a decade later as the old friends meet once again to deal with the fallout of their actions. Free to $2.99 on Kindle.