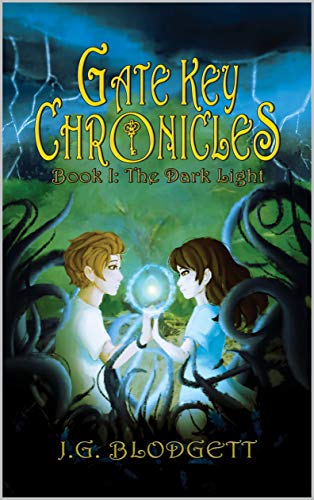 The Dark Light is the first book in the Gate Key Chronicles, an epic fantasy series by J.G. Blodgett. The story is written for middle-grade readers, but is sure to please children, teens, and young adults alike, or anyone who dares to believe in something beyond themselves!
~ Jimmy Mankins is a quiet, reserved boy from a broken home in Cottonwood Grove, KS. When he befriends the strange new girl in school, he has his eyes opened to anew world full of wonder and beauty, but also hidden dangers that fight to penetrate his quiet life in a small town.
Amelia Miller walks into Cottonwood Grove as the new kid, only she has a secret, and her mysterious and curious nature captivates Jimmy, drawing him to her. The two quickly become friends after Jimmy rescues Amelia from the local bullies. While their friendship blossoms, Jimmy gains Amelia's trust and she lets him in on her little secret-Amelia has in her possession a seemingly simple blue egg, which she claims is the key to another world.
But Amelia's secret is also Jimmy's past, intertwined with his own family bloodline. This meeting was no accident, and there are dark forces that threaten to destroy both Amelia and Jimmy's worlds.
In the end, the two must stand together, united under a banner of friendship, love, and faith if they hope to confront the ultimate foe from Amelia's world… the Dark Light. $2.99 on Kindle