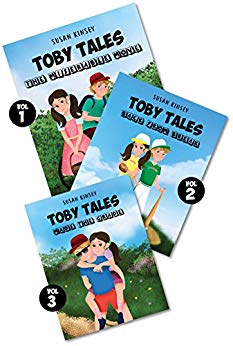 Get the Toby Tales Series in one set!
Read the complete story of Toby Perkins, a ten-year-old newcomer to Washington, D.C. A long, boring summer lies ahead before he makes his new friend, Hailey. The only problem—she's a girl.
As this newcomer adjusts, he finds himself passing the days with this bothersome neighbor only to see their unlikely friendship grow. As Toby enters the fifth-grade, he hopes to make new friends, squash crushes, win contests, and deal with his dreaded bully, Kevin.Adjusting takes time, and as Toby settles into the new school year, he embraces the changes while Hailey sees him through.
Join these two on their adventures, and follow along as Toby and Hailey learn that friendship is what your grade school years are all about. $7.99 on Kindle.