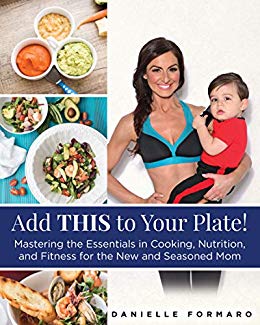 Moms are constantly piling new things to their plates; if not in their minds, then literally on our plates — hence the dreaded mommy weight gain! As their to-do lists continue to grow, they always (somehow) find a way to add even MORE to their smorgasbord of stuff. It just never ends.
Once upon a time, it was enough that women ran the household and raised the children —   now they have added so much more to their plates. Women now have more roles than a French bakery!
Juggling it all can be tough, but if you have the right recipe for success, you will be able to juggle it all. Add THIS To Your Plate offers the new mom solutions on how to handle it all.
It provides over 100 healthy recipes, half dedicated to baby and the other half dedicated to the rest of the family. The baby recipes start at ages 4-6 months and continue to grow in age until the baby reaches age one. Recipes for the baby's plate start with baby's first cereals, purees, mixed purees, and then end with exciting and flavorful chunky style meals. Once the recipes reach 12 months of age, the baby can then enjoy the next 50 recipes created for the whole family. Family recipes are classic recipes we have all grown up to love but lightened up to add more nutritional value and also aid in weight management.
All recipes have a nutrition based or fun fact to creating for some interesting conversation starters during meal time. Free on Kindle.