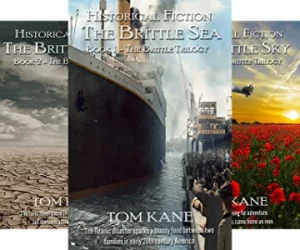 The Titanic disaster triggers a bloody-feud between two families in early 20th century America.
Magda Asparov, a young woman from Ukraine, is part of an arranged marriage, and due to travel to America to marry Matthew Turner, a shrewd and unscrupulous American businessman. In return for taking the Asparov's daughter as his bride, Turner is hoping to get his hands on a parcel of land sitting on top of an untapped oilfield in the USA.
But Magda's journey to America is cut-short when the ship she is travelling on, the Titanic, hits an iceberg and sinks.
Magda loses her memory and a new personality, Maggie, takes hold. Richard Blackmore, Captain of her rescue ship, falls for her. What follows is the hunt for Magda by Turner's evil henchman, William Harker, who aims to succeed by any means, fair or foul.
The ensuing search leaves Richard Blackmore as collateral damage.
Free to $1.99 on Kindle.