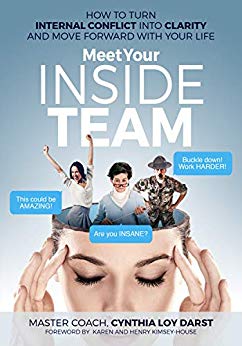 Inside all of us is a collection of internal voices, parts, and beliefs, that sometimes work in harmony and sometimes doesn't. When your Inside Team is working together everything can be great and life wonderful. But when your Inside Team isn't aligned you can feel stuck, anxious, confused, or judge and beat up on yourself.
What if you had a way to turn toward these parts with curiosity and respect, and find out what they're really trying to say and then bring them into alignment?
The Inside Team approach shows you how to go behind the curtain so that you can discover the way you think and understand what these parts of you really want. By doing so your creativity and resourcefulness will have room to grow, turning internal conflict into clarity, negative thoughts into positive ones, and move forward with more ease and fun in your life.
For over 25 years, Master Coach Cynthia Loy Darst has been helping people achieve what they really want in their lives. Known as a "coach's coach" her Inside Team trainings are highly sought after by life coaches, executive coaches, therapists, and those wanting to make meaningful change in their lives. $0.99 on Kindle.