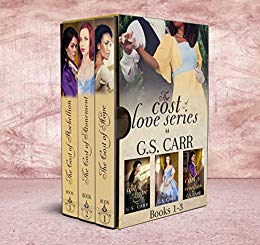 This boxed set contains the first 3 books in the Cost of Love series!
The Cost of Hope: Soleil has no delusions of living a grand life. The only thing she wants is safety for her daughter. But when even that seems impossible she takes matters into her own hands. Only life has a different plan, sending her into the arms of a handsome plantation owner. The strangest part is, he claims to already love her.
The Cost of Atonement: A year ago, Virginia's closest friend was kidnapped and sold into slavery. Since then she has dreamed of dedicating her life to abolitionist efforts. But when an opportunity to be a Conductor comes wrapped in the condition of marriage, Virginia finds herself giving in to the one thing she swore she'd never do.
The Cost of Rebellion: Hope Cummings had no interest in the ordinary life of a proper English lady, no matter how much her mother wished she would. She'd rather be sailing the majestic ocean with her father and brother or embarking on adventures. The answer to her problems comes in a handsome form she didn't expect. $0.99 on Kindle.