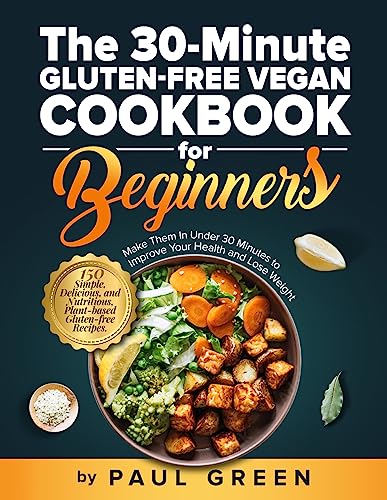 Discover the Art of Creating Delicious Plant-Based Meals Using Accessible, Wholesome Ingredients That Will Nourish Your Body From the Inside Out! – Quick and Easy Plant-Based Recipes to Energize Your Body
Are you ready to embark on a journey towards vibrant health and delicious plant-based eating?
Look no further!
You've just discovered your ultimate guide to creating mouthwatering, wholesome meals in just half an hour.
Uncover a treasure trove of delectable, gluten-free, and vegan recipes that will nourish your body, tantalize your taste buds, and leave you feeling energized and satisfied.
Effortlessly incorporate essential nutrients into your diet, ensuring a well-rounded approach to plant-based living.
Discover:
A wide array of recipes to choose from!: From hearty breakfast options to satisfying lunches and dinners, each recipe is thoughtfully crafted to provide optimal nutrition without compromising on taste.
Amazing meals without the hassle: Say goodbye to hours spent in the kitchen and hello to quick, convenient, and beginner-friendly meals that can be whipped up in just 30 minutes.
Recipes that ANYONE can make: With easy-to-follow recipes and step-by-step instructions, you'll become a culinary maestro in no time!
A seamless transition into this healthier lifestyle: Learn about the abundant health advantages, including improved digestion, increased energy levels, and a strengthened immune system.
Experience the joy of creating delectable gluten-free vegan dishes that will wow your family and friends. Impress your loved ones with flavorful recipes that demonstrate just how delicious and satisfying plant-based eating can be.
Whether you're a seasoned vegan or just starting your plant-based journey, this book is your passport to discovering the incredible flavors and benefits of a gluten-free vegan lifestyle!
Embrace a new way of eating and living. Take the leap and unlock the power of a gluten-free vegan lifestyle that will not only benefit your health but also contribute to a more sustainable and compassionate world.
$2.99 on Kindle.