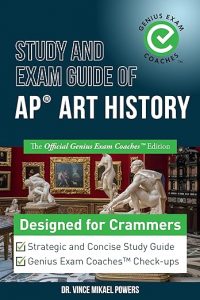 AP Art History study and exam guide by Genius Exam Coaches is a strategic and concise guide built for cramming.
AP Art History is a study guide created to aid your review and help you pass your examination. The first chapter is dedicated to guiding you through what to expect for the exam along with reliable exam taking strategies. This study guide is complete from Global Prehistory, Ancient Mediterranean, Early Europe and Colonial Americas, until the era of Contemporary Art. Each chapter and subchapter is dedicated to making reviewing easier, allowing the ability to retain knowledge for better studying.
AP Art History by Genius Exam Coaches will help you study with ease and lessen your anxiety for the examination by ensuring that you can review easier and to the best of your ability. AP Art History 2023-2024 has never been easier. $2.99 on Kindle.