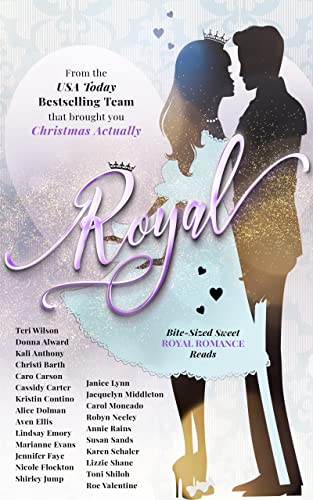 A glittering collection of 24 brand new romance novellas, all written with royal flair! This anthology includes stories by USA Today and New York Times bestselling authors, as well as the writer of the smash Netflix hit A Christmas Prince!
Special forward by Katharine McGee, author of the New York Times bestselling American Royals series.
Undercover Princess by Teri Wilson
Resisting the Royal Bodyguard by Donna Alward
His Cinderella Princess by Kali Anthony
A Royal Love Song by Christi Barth
The Dude Ranch Duke by Caro Carson
Heir B and B by Cassidy Carter
One Summer in London by Kristin Contino
A Right Royal Rivalry by Alice Dolman
Man of the (Royal) Match by Aven Ellis
What Makes You Beautiful by Lindsay Emory
By Order of the Crown by Marianne Evans
A Rose So Royal by Jennifer Faye
The Royal Takeover by Nicole Flockton
The Runaway Princess Bride by Shirley Jump
Wrapped Up Royally by Janice Lynn
No Strings Attached by Jacquelyn Middleton
Conflict at the Castle by Carol Moncado
Royally in Love by Robyn Neeley
A Royal Getaway by Annie Rains
Royal in a Small Town by Susan Sands
Royal Extra After by Karen Schaler
A Royal Holiday Wish by Lizzie Shane
A Deal with a Prince by Toni Shiloh
Love Takes Flight by Roe Valentine $0.99 on Kindle.