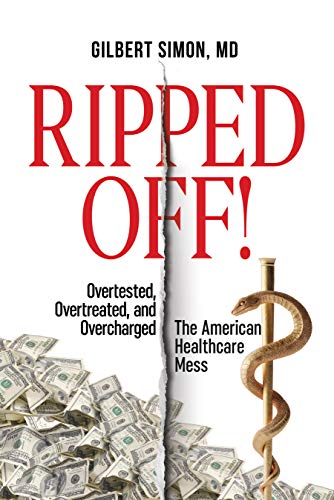 Your share of your health insurance premium and the amount you are paying for your yearly deductible, co-pays, and prescriptions are soaring. Don't forget that your employer's share of your premium is coming out of your salary. And unfortunately, you are not alone. What can you do to avoid unnecessary costs and encourage American healthcare reform?
Ripped Off! is your guide to better understanding the problems of the American healthcare system—and what you can do for yourself and how to help enact change. Gilbert Simon, MD, has been a primary care physician for over 50 years. He has seen how the corporate takeover of medicine created a costly, bloated, complex, profit-driven bureaucracy. He explains that the current system is out-dated, unsustainable and that we have come to the time for major reform. Ripped Off! shows you how healthcare spending will only increase until major legislative and administrative changes are made and how, like other industrialized countries, America can provide high-quality and equitable service to all of its citizens. After reading this book, you will:
Recognize the need for healthcare reform
Feel confident demanding a better and more affordable healthcare system
Discover the truths of overspending with American healthcare
Call for a new system that keeps you healthy while keeping your paychecks higher
Ripped Off! demands the need for a more cost-effective healthcare system. It answers questions like, "How can a universal healthcare system work?" and "How can we find the money to do it?" It is time to make a change and save billions of taxpayer dollars. With this book, you can gain the knowledge and courage to make effective healthcare reform a reality before it's too late. Free on Kindle.