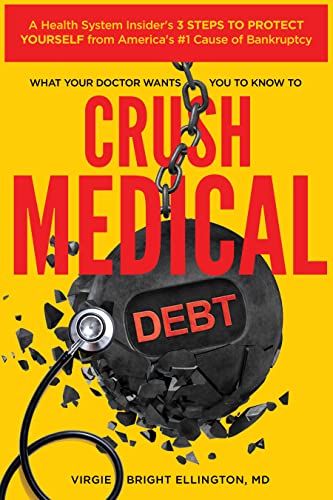 Medical bills can bury you in debt for the rest of your life, but it doesn't have to be that way.
No matter how much you owe, there's a better way to get rid of your medical debt beyond bankruptcy.
When Dr. Virgie Bright Ellington became a cancer patient, she faced insurmountable medical bills. That's when she took her insider industry knowledge and put it to work. In Crush Medical Debt, she shares her secrets to help individuals, families, and veterans protect against America's number one cause of bankruptcy—medical debt. Filled with practical and step-by-step strategies, this guide provides the tools you need to stop spending money you don't owe and save yourself from becoming a victim of a predatory healthcare system.
You'll discover:
How to get rid of your medical debt and hospital bills in three simple steps—without going bankrupt.
Definitions to help you catch common CPT code and medical bill mistakes.
How to effectively communicate with your provider to fix mistakes in your bills or coverage, including COVID-19 and pandemic-related costs.
What to do when your private insurance company, Medicaid, or Medicare won't cover your medical costs.
Debt management tips to negotiate a lower bill and set up an interest-free payment plan regardless of your credit score.
Get the healthcare you need while taking care of your financial health at the same time. Fight back against predatory billing practices! Uncover the secrets in Crush Medical Debt to free yourself from a lifetime of bills and save your financial life.