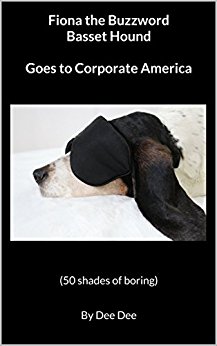 Fiona is a fun-loving Basset Hound who was sniffing around the backyard one day when she accidentally fell down a gopher hole. Suddenly, she found herself trapped in a very bizarre and strange place called "Corporate America."
Let's wish Fiona luck as she explores this new world by navigating through a maze of buzzwords, corporate jargon and unrealistic expectations. As seen through the eyes of a dog, this short book is filled with funny pictures and phrases illustrating the absurdity of working in a corporation. It is sure to make employees everywhere laugh out loud.
The majority of the proceeds will be donated to Tri-State Basset Hound Rescue, an all-volunteer, non-profit corporation dedicated to finding forever homes for homeless Basset Hounds. Free on Kindle.