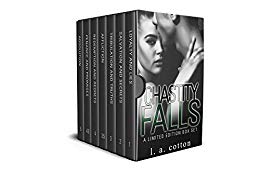 The complete best-selling angsty and addictive NA romance series bundled together for a limited time only!
When eighteen-year-old, Ana Parry arrives at Chastity Falls Academy, it's supposed to be her fresh start, her escape. Until she meets mysterious Jackson. She shouldn't want him. He definitely shouldn't want her. But before they know it, it's too late, and their attraction sparks a series of events that neither of them could have predicted…
Welcome to Chastity Falls. $0.99 on Kindle.