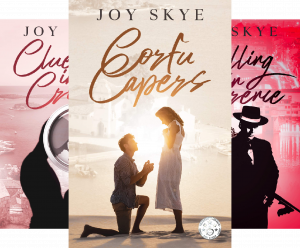 Sublime Retreats Romances, luxury travel never felt so good!
CORFU CAPERS
Five people, three secrets, one planned proposal. What could possibly go wrong?
Laugh and fall in love as you travel to Greece in this feel – good rom com.
CLUELESS IN CROATIA
D.I. Fierce always gets his man, but can he get his woman?
A feel good romantic comedy, the perfect beach read.
FALLING IN FLORENCE
Sofia Marino is focused on one thing, finding the ideal job…
When she lands the opportunity to work for Peter Williams at Sublime Retreats, it's a dream come true and the last thing on her mind is romance.
A heart-warming, feel-good romance about life, love and family!
$0.99 to $2.99 on Kindle