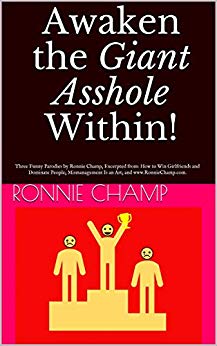 Are you ready to awaken the giant asshole within? Are you ready to achieve true greatness in Life? Then you will benefit from the wisdom of Ronnie Champ, professional Dominator.
This book is a collection of three funny parodies, excerpted from Mr. Champ's hilarious self-help parody, How to Win Girlfriends and Dominate People; his politically incorrect satire, Mismanagement Is an Art; and his humor blog, www.RonnieChamp.com.
Ronnie Champ's inner giant is woke, and he's stomping around like Godzilla, tearing shit up, and crushing people like bugs under his feet! If you want to wake up the giant within you, then this book can show you how! Free on Kindle.