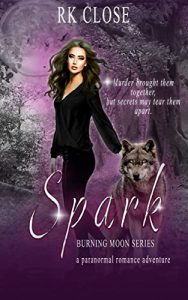 Jessica Parker is smart, determined, and knows how to get things done. That's great in her profession, but deadly when she unwittingly pushing the buttons of a rogue vampire.
When several suspicious deaths occur in the small mountain town of Flagstaff, Jessica jumps at the chance to further her career by finding answers for her viewers.
Liam McKenzie and his two brothers made Flagstaff their home several years ago. The town is quiet; the people are friendly and the population tends to be transient because of the college. It's a great place to hide a secret. And with hundreds of acres of wild forest around them, it's the perfect place for three wolf-shifters to run wild when they need to. Liam needs to keep Jessica at a distance, but his inner-wolf has other plans. How does he protect her without revealing his family secret? And if she discovers what he is, will she accept him or plaster his secret across the evening news? Free on Kindle.