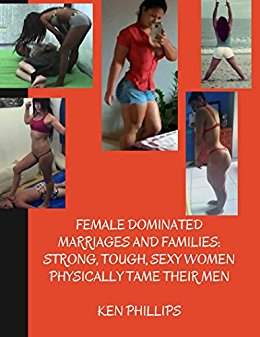 Liz is the kind of sexy blonde hot mom that every man dreams about. In addition to her beauty, Liz also has a killed physique with amazing legs, rock hard glutes, killer abs and an upper body to die for. Liz's pictures tell just part of the story. Liz can kick her husband's ass and in her own retrospective way, she has thought about the huge benefits of this sort of situation. In a practical way, it makes her life better and it's also a massive turn-on for her.
Several of Liz's students have been willing to share their stories. These are ladies that can and have conquered their men. They discuss the matches, the aftermath, the advantages and other sexy odds and ends. These women, in some cases, are stronger than their husband and in other cases, they simply have the technique to overcome a size or strength disadvantage. Either way, the women end up in the Superior position and the men end up humiliated, submissive and often times emasculated.
We then meet Jase and learn about his experiences with his sister and her friends. Jase is a small man and he learns all about the reality of gender battles. Yes, men are usually bigger and stronger, but not always. And the difference between male strength on average and female strength on average isn't that great and it can be fairly easily overcome. Jase's journey is humbling, humiliating, sexy and very, very interesting.
This book ends with a re-print of one of our top three reader-chosen ladies. Brenda has lived an interesting life and here she tells all. If you want an inside look at the life of a strong, dominant, sexy lady then this is the book for you. The pics and profiles of Brenda will show you why readers have gone crazy for her. $3.30 on Kindle.