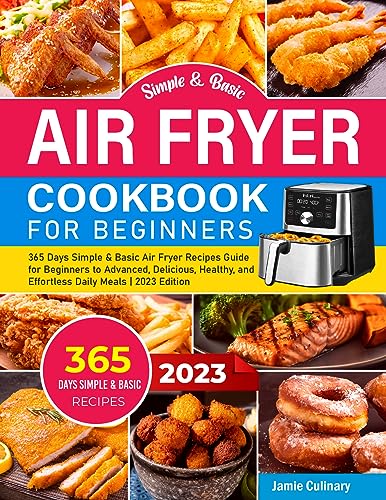 Discover the endless possibilities of the air fryer with "Simple & Basic Air Fryer Cookbook For Beginners 2023". This comprehensive guide offers 300+ delicious, easy-to-follow, and budget-friendly recipes that will transform your home cooking experience.
This cookbook is your ultimate resource for making the most of your air fryer. Each recipe is designed to bring out the best in your ingredients, delivering mouthwatering results every time.
In this book, you will discover:
A diverse range of meals catering to all tastes, dietary needs, and busy schedules.
Vegetarian and vegan options that everyone will love.
Recipes designed for the busy home cook, ensuring quick and easy preparation.
Detailed ingredient lists and precise cooking times for each dish, ensuring perfect results.
Clear, step-by-step instructions on how to prepare each dish using your air fryer.
Helpful tips and tricks on how to make each meal a hit with your family, and have them requesting it time and time again.
Eating is a shared experience, a great time for family members to catch up with each other's day. A good meal gets them to the dinner table every time. With "Simple & Basic Air Fryer Cookbook For Beginners 2023″, you'll be serving amazing meals that will bring everyone to the table. Start your culinary journey today!"?
Absolutely! With safety covered, let's dive into the delicious world of Air Frying! $2.99 on Kindle.