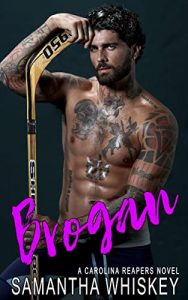 They call me Demon for a reason—I'm the most ruthless Reaper on the ice.
I'm not the person who finds a baby on their doorstep.
Except, after a morning run, I am.
And the note accompanying the little bundle says she's mine.
I was nothing but a burden on my aunt and uncle after my parents died, and I'd decided I'd never have children.
But it seems fate has other ideas, and now I've got a three-month-old daughter…and zero clue how to take care of her.
Insert my new nanny—Fiona Andrews, the gorgeous, stubborn, and more than qualified woman who is saving my ass.
She moves in, and suddenly my upside-down world feels more balanced than ever before.
She's magic with my daughter, patient with me, and has a mouth that drives me wild.
There are lines we can't cross, shouldn't cross…and yet keep crossing.
I'm falling fast, but it's not just my heart that's at risk anymore,
and if we eliminate those professional boundaries?
I could lose them both.
$0.99 on Kindle