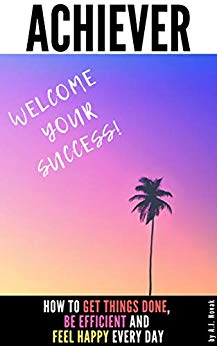 Your daily tasks fill all your time? Do you have no time or energy left for achieving what you really want? Feel that you can do better? Or maybe you are fine, but just want to feel little happier and more confident every day?
It has just become easy and achievable for everyone, with a simple and realistic attitude described in Achiever – an ultimate guide to success and happiness through personal efficiency!
The solution is to practice techniques that allow you to understand what's most important in your life, how to achieve your goals faster spending fewer resources and let you live how you really want to live on a daily basis.
Inside, you'll be given sets of techniques to:
– Consciously and sustainably build a fit body
– Clear your mind, stay focused and full of energy for a long time
– Identify weak links in your life organization that lead to time, money and health wasting and slowly and painfully bring you down
– Fix these weak links to get rid of them
– Get self-confidence to push yourself through to your goals
– Establish a sustainable lifestyle which you are happy with, become more efficient in any sphere
– Help others to achieve the same results
There are no shortcuts, you will need some willpower to actually reach all above-mentioned points.
But all the tools to get there are here for you, well described and structures, just take a book, go to the right chapter, apply it in your life and start feeling this satisfaction form your achievements right away! $4.99 on Kindle.