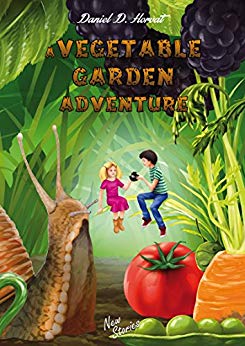 As they moved with parents to their new house, a sister and a brother found a silkworm inside a garden's shed that was trapped inside a pendant of a necklace, together with a brief saying: Read this saying in a single breath to become small and set free the silkworm by blowing through the hole on the backside of the pendant! So they did, but nothing strange happened. The children didn't become small. They promised the silkworm to come and try again the next day. Then they went to eat their dinner and to sleep.
Believing in the message and a saying the boy wisely picked up a dry dandelion and put it together with a pencil on the nightstand close to their beds. He was thinking ahead of time how to get out of the house and arrive at the garden's shed if they were going to become small. The next morning they woke up the size of a pea! They've read the saying the right way, only it resulted with a slight delay! They needed to find a way how to reach the garden's shed. Besides their great desire to help the silkworm, this was their only chance to grow back again, because the saying included even this: When you complete the task, return to the place where you became little, so you could grow back again.
Children felt slightly scared of being so little, considering how everything else around them seemed strangely huge. Regardless, they were coping with fears together, encouraging one another, becoming more reliant on each other as of themselves. Believing in their achievement gave them the courage for a 3-days journey across the garden, where they met lots of animals that were helping them at their most difficult moments. Free on Kindle.