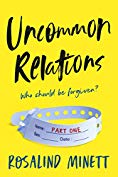 "Be careful what you wish for!"
When Terry encounters his double, shadowy wife Gudrun avoids hearing the amazing news. What is she hiding, and why? Soon both have some awkward secrets. Terry's search traps him into increasingly bizarre situations. Bizarre can be funny, sad, alarming or thought-provoking and this novel offers all, as well as a large caste of complex characters and a gripping mystery.
Will Terry ever discover what he really needs to know? Is Gudrun a heroine, a victim or a packet of trouble? $2.99 on Kindle.