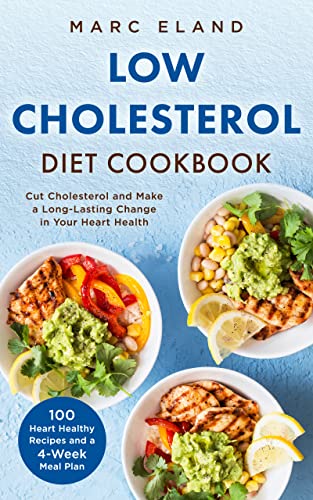 If you want to gain back your bulletproof heart health, keep reading…
What can I eat now? Was that what you thought after getting diagnosed with high cholesterol levels? Don't worry. You're not alone. Switching to a new heart-healthy diet can seem like a daunting task at first. But the truth is that nearly 1 in 3 American adults has high cholesterol levels and that means there are dozens and dozens of mouthwatering low cholesterol recipes that are already proven to be both beneficial for your health and extremely delicious.
Marc Eland and Marie Folher designed this Low Cholesterol Diet Cookbook exactly for your needs. It will make getting started with your cholesterol-conscious journey easy and effortless. They bring the healthy alternatives of timeless favorites like Sloppy Joes, Stuffed Pork Chops and Tofu Tacos in front of you in a simple and easy-to-follow way. You can say "goodbye" to all the bland and tasteless heart-healthy foods you've already tried and welcome a book full of tasty recipes that will perfectly fit your new Low Cholesterol Diet.
In the cholesterol-cutting pages of the Low Cholesterol Diet Cookbook, you will discover…
Perfectly Portioned Recipes – The 100 heart-healthy recipes will help you lower your cholesterol levels while enjoying mouthwatering food every time you eat.
4-Week Meal Plan – Get on the right track by following the pre-made 4-week meal plan.
Effortless Cooking – The meals are focused around accessible, whole-food ingredients so you can easily cook mouthwatering meals without having to deal with hard-to-find ingredients.
No matter if you're just a beginner or already an experienced chef, with the recipes of the Low Cholesterol Diet Cookbook, you'll be able to cook heart-healthy food that you and your whole family will enjoy. The recipes vary from vegetarian to all sorts of meat and poultry so there's something for everyone. It's time to take control of your cholesterol levels and bring that LDL down.
If you want to take control of your cholesterol levels while still enjoying mouthwatering and delicious food, go get your copy of this book now. $0.99 on Kindle.