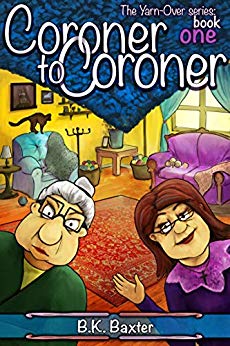 Bliss, Texas will never be the same. A murder will make sure of that.
The town Sheriff is fat, happy, and useless. Just like his daddy before him and his dad before that.
Ethel and Velma Harmon should know. They've been around for all three.
These two seventy-something sisters-in-law refuse to let their ages slow them down. Especially when there's a mystery to get tangled up in.
The only thing that takes their time away from the whole ball of yarn is, well, a ball of yarn. Crochet class can't be missed. No matter what.
But keeping things on track isn't easy. Not with old high school boyfriends that still think they're eighteen and overly friendly mailmen offering up winks.
Throw in a dead candidate for mayor, a gender-confused cat, and a splinter-giving park bench, and you're in for one heck of a time. $0.99 on Kindle.