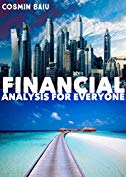 This book targets not only the specialists but anyone interested in understanding the philosophy behind the financial analysis. Written in a language accessible to everyone, the book offers more than 50 examples and case studies inspired from reality, based on the personal experience of the author.
The Author takes the opportunity to describe uncompromisingly not only the financial banking activity but also entrepreneurial behavioral patterns, in order to educate and develop the Reader.
For the young university graduates, for bank employees and also for entrepreneurs, this unique book is incredibly useful, in a market dominated by theoretical writings. $11.89 on Kindle.