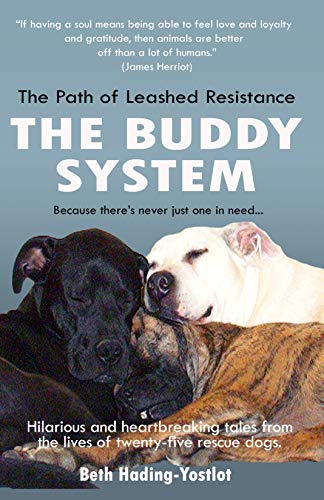 This book is a hilarious and heartwarming look into the life of a remarkable family that fell into canine rescue completely by accident, but now lives to protect and care for their dogs absolutely on purpose. An awe-inspiring read for anyone who loves dogs!
When Robert and Beth Hading-Yostlot rescued Buddy Lee, they had no idea what they had started. How one dog would spark such compassion in them for abused and abandoned animals. But that spark turned into a blazing fire that burned brighter and hotter than they could have ever imagined.
Fueled by destroyed furniture, food follies, bizarre accidents, and near death experiences, the fire spread to every corner of their lives.
They experienced both the pleasure of seeing damaged dogs be healed by the courage of a loving family and the love of other amazing dogs, as well as the hardships of having to make such great sacrifices to give them what they needed to grow in strength and joy. They also experienced the triumph of watching a dog's spirit be lit up by life, along with agony when it was extinguished by death.
Beth Hading-Yostlot gives us a glimpse into their adventures, their pragmatic existence, and explains why forty-plus dogs later, they're still living a life devoted to canine rescue and what it means to live by the Buddy System. The only thing she can't predict, is who's going to need their help next. $0.99 on Kindle.