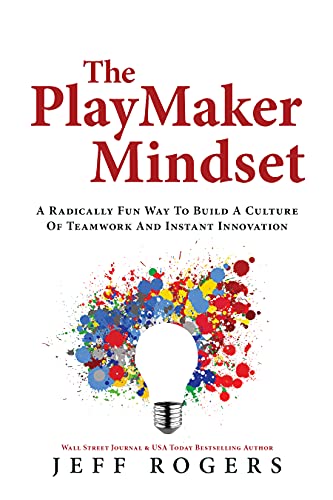 Stop Working and Start Playing! Learn how to unleash the creativity your team needs for instant innovation, a stronger culture, and a happier life!
In this business fable from Wall Street Journal and USA Today best-selling author, Jeff Rogers, we find a simple way to rekindle our lost sense of play…and use it at work. Meet Jerry Newcombe: a person who's struggling with a work life balance that has him drowning in mediocrity. He's tired, unfulfilled, and more than a little worried that he'll never reach his full potential. An intriguing question from an unusual source forces Jerry onto the path of discovery on how to unleash his true creative potential!
For managers and team leaders or anyone looking to turn stressful situations into creative solutions, The Playmaker Mindset provides a powerful way of thinking that enables you to innovatively overcome challenges and bring out the best in yourself and your team. Stop working, Start playing, and learn how to win at life with The Playmaker Mindset! Free on Kindle.