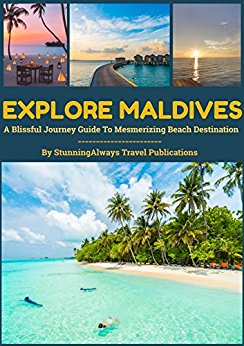 A perfect travel companion for all the adventure seekers, travel enthusiasts & beach lovers… for unwinding on a sunny tropical island while enjoying water diving activities, exploring marine life, coral reefs, taking long sunbaths & do some adventure activities… on a paradise situated in southwest Asia, MALDIVES.
Here are 20+ Topics that this travel guide includes-
1. An awesome travel itinerary of 4 Days & 3 Nights
2. Visa on arrival process
3. Best sightseeing places in the Maldives.
4. Water and sports activities to do in the Maldives.
5. Nightlife.
6. Best way to reach the Maldives.
7. Eating options for veg & non-veg
8. Travel options in the Maldives
9. Best Resort/Hotel accommodation ideas
10. Travel budget saving tips
11. And much more
Highlight of 'Explore Maldives' Holiday Guide:
Awesome ways to discover 'Maldives' with many tips to save money on your transfers and guide you in finding awesome stay places with best travel options. Your trip will be full of memorable, joyous, adventurous, fun-filled moments with your friends, family or with your partner. $1.49 on Kindle.