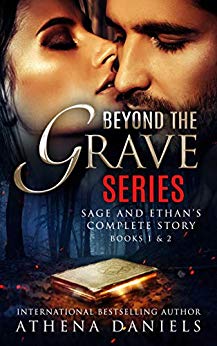 The first two full-length novels in the bestselling, award-winning BEYOND THE GRAVE series!
Beyond the Grave: Book 1
To save her, he must let go of everything he ever believed.
Upon returning to her hometown for her grandmother's funeral, Sage Matthews is terrorized by a series of strange events. She dismisses each eerie occurrence as a by-product of her overwrought emotional state, until it becomes chillingly clear that something not of this world is desperate to get a message—or is it a warning?—through to her.
The Alchemist's Son: Book 2
The thrilling conclusion to Sage and Ethan's journey that began in The Seer's Daughter.
A town with a dark secret.
A detective digging for the truth.
A discovery that leads to an unthinkable sacrifice.
For one hundred years, a demon has been watching, waiting, plotting…
White witch Sage Matthews has inherited a gift that makes her both integral to an ancient prophecy and a target for a demon-possessed serial killer. Assigned to catch the killer, Detective Sergeant Ethan Blade falls wildly, and inconveniently, in love with the one woman he doesn't know how to protect. $0.99 on Kindle.