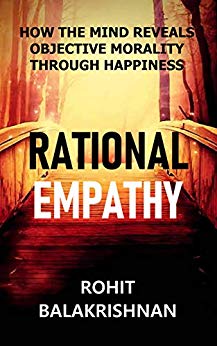 When you think about Morality/Ethics, what comes to your mind? Is right and wrong a mere personal opinion, or is it nothing more than a cultural construct? This book explains why both of these notions are wrong.
Morality is based on empathy and derived through sheer logic! And why is morality important? Understanding morality helps maximize happiness for ourselves and the world around us. This book is not written for the philosophy enthusiast, but for the common man. It has the potential to change the way the field of moral philosophy is going to be looked at – mainly because of some reasons:
1) It explains the straight link between morality and happiness – and thus shows that being moral is not a sacrifice, but a win-win phenomenon which primarily brings happiness for ourselves in addition to those whom we interact with or influence.
2) It busts the myth that we are not in control of our feelings. Understanding this means that we understand how to create happiness and reduce suffering.
3) Additionally, it shows why things like empathy and love are not in conflict with rationality and intellect – thus debunking the false conflict between valuing truth and valuing happiness and feelings.
4) Philosophically, it shows why objective moral truths exist – thus debunking the popular notions of morality being completely subjective or something defined by cultures, religions or any authorities. Free on Kindle.