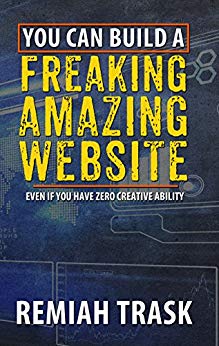 f you're dying to know what it will take for your business to be a Money Magnet or a Client Acquisition Machine…the answer is a FREAKING AMAZING WEBSITE! And this book will give you the exact steps on how to score one.
Take a journey with Remiah Trask and discover that the secrets to:
– Increased sales
– Loyal customers and clients
– Consistent growth…
All lie within the foundational process of building a successful website. Whether you're a fashion blogger, web designer, or even a successful lawyer wanting to gain more clients, you will learn how to capitalize in your market by understanding the philosophies outlined here. Consumers today believe that if your website is dull, slow, and boring, then your brand is too. Don't be dull, slow, and boring; take advantage of the opportunity to be FREAKING AMAZING now! $0.99 on Kindle.