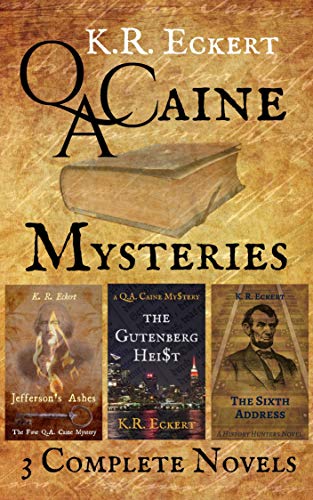 Q.A. Caine is a reputable book dealer, a respected member of his Boston community and…a con artist. Well, reformed con artist. Okay, a mostly reformed con artist.
Here in the first three of Caine's adventures, you'll find he's all of these things and more…
First in Jefferson's Ashes, you'll find Caine, the book dealer, buying a valuable and rare Jefferson Bible. But when the young man who sold it to him is found dead a few blocks from Caine's shop, the only way he can stay off the list of suspects is to solve the case himself.
Then in The Gutenberg Heist you'll see how Caine the criminal plots to steal a Gutenberg Bible worth forty million dollars from the billionaire who killed to get it, and who, Caine knows, will kill again to keep it.
Finally, in The Sixth Address, the novel where Caine was introduced in a supporting role, he joins with The History Hunter, Paul Davenport, in a race across the United States to find an unknown copy of Abraham's Lincoln's Gettysburg Address before Caine's most dangerous enemy gets it first. $0.99 on Kindle.