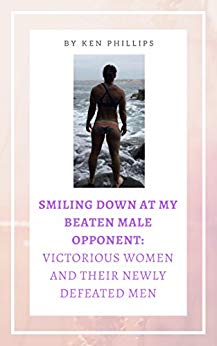 These women and their experiences will amaze and excite you. The pictures alone will leave you begging for more! If you like dominant, strong, beautiful women then you'll absolutely love this ebook!. Kelly is not a massive bodybuilder but she's a beautiful lady with curves, skills, muscles and a Femme-Domme attitude. Her marriage with Bryce is quite interesting. Although they lead normal lives most of the time, he is 100% under her thumb. The details will delight all lovers of femme-domme, mixed wrestling and butt-kicking women.
Linda is genuine hardbody. The pictures almost tell it all! Her long legs, take-no-crap attitude and rock-hard abs put men to shame. She also has a wonderful sexy-dominant attitude. Readers fell in love with Linda from head to toe.
Next we take a look at Joanne. This lady knows how to use her body to tame me but there's something else even more intriguing about this tall, sexy lady. Joanne knows all about the fragile psyche and about the overblown ego that comes with being a man. This lady is very creative and a bit cruel as well.
Missy is a beautiful, lean and sexy lady who keeps her husband under her thumb. What goes through a woman's mind when she sees and feels her defeated man? What are the conflicted feelings like for the man? It's sexy, humiliating and thrilling all at the same time. Her husband can think of little else for days after submitting to his lady.
Lucienne is a very powerful African-American lady with a very playful side. The power she possesses in her thighs is lethal. Men are her toys and she delights in taking them to some very vulnerable place.
Malaya is our final femme fatale and she's quite the beauty. Malaya has defeated several men but putting those guys in her own family in their place really makes her giggle. Her hips, chest and glutes are all weapons, but they are also beautifully enticing. Her experiences will make you wonder just how many other athletic, strong women are taming their men. $3.40 on Kindle.