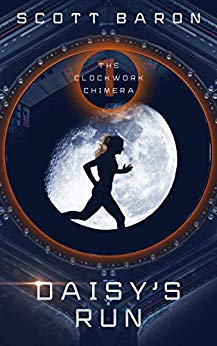 Life in deep space could be a drag sometimes, but seeing as she hadn't been blown up or blasted into the void, at least not yet, Daisy supposed things could be worse. If she could somehow figure out who, or what, was threatening her flight home to Earth, things would be just peachy.
"Professional, polished, and aggressively kickass, this book is engaging science fiction." – Reading & Literature Resources Reviews
"Exciting action sequences, good dialogue, nifty science, and well-drawn relationships make for an entertaining read." – Kirkus Reviews
"A brilliant storyline rife with plenty of dry humor, impromptu romps and plot twists as twisted as the cyborgs." – Indie Reader
Pre-Order Daisy's Run (Book 1 of the Clockwork Chimera Series) and you'll receive books 2 and 3 for free! To get books 2 and 3 free, you'll need to enter your pre-order receipt number here.