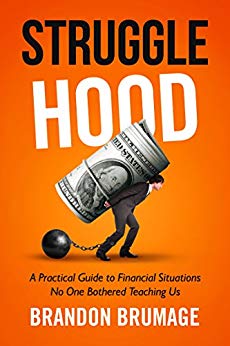 Adulthood? More like Strugglehood! Money may not buy happiness, but let's be honest, it makes life a hell of a lot easier. So, why doesn't anyone teach us how to handle our money? Why must you be left feeling insecure and helpless when it comes to financial planning?
Times are different. No longer can you get a summer job to pay for an entire semester of college. Most of us have a shocking amount of debt coming out of school. Retirement? How can anyone think of retirement when you're just trying to make rent and pay your bills every month?
In this book you'll learn:
• To create and easily use a budget without changing your lifestyle
• How to save more money
• How your credit score is actually built and how you can better (or repair) it
• Credit cards can be amazing when used effectively
• How to consolidate and refinance your student loan debt and finally start seeing it disappear
• The difference between a 401(k), IRA, and HSA
• How to generate passive income and retire early
• How to properly fill out all that tax paperwork when you start a new job and how it significantly affects your paycheck
The author, Brandon Brumage, learned all of these things through experience and dedicated research. He's not a financial analyst or planner throwing a whole bunch of industry jargon and confusing terms at you. That's not helping anyone. Rather, he writes in a conversational and friendly tone because that's how he had to learn it, and that's what makes these concepts stick.
Brumage has written this practical guide as though you're sitting next to him at your favorite coffee shop. He shares his hilarious personal experiences and offers a "Pro Tip" section in every chapter. So, whether you're looking for tips on saving money, credit card debt management, student loan debt, or early retirement, Strugglehood: A Practical Guide to Financial Situations No One Bothered Teaching Us is a must-read. $1.99 on Kindle.