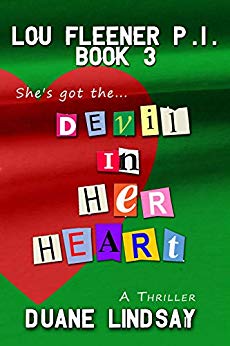 Monk's in California, in dire straits (no; not the band.) Sal Leon, the gangster, has him captive with an aim to maim. Bonnie may—or maybe not—be an accomplice to that goal, which isn't a good thing, considering Monk was considering proposing.
Lou and Cassidy are still in Chicago, spying on crooked Aldermen, threatened by flooded basements and aggressive jocks. Their vacation suddenly cut short by having no money, they travel cross-country in a very hot car to find out why.
Can they rescue Monk? Does he need to be rescued? Is Bonnie involved in this somehow? And most important (especially to the always-avaricious Cassidy) Where's the money?
There's action, romance and the usual humor in the exciting third chapter of the Lou Fleener series. $0.99 on Kindle.