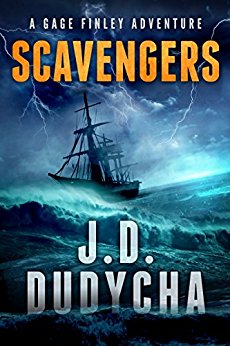 When treasure lurks beneath the depths of the Caribbean, mutiny, deceit, and murder abound.
While scuba diving off the rugged and desolate shore of North Bimini, in the Bahamas, Gage Finley discovers a coral-covered relic. The relic: a flintlock pistol. One of two linked to the notorious captain of Scavenger, a pirate ship that sank off the Bahamian coast in 1717.
Scavenger went down with all hands, including chests full of gold in the sum of millions, which remained lost . . . until now.
Gage, along with his daughter, Niki, and his best friend, Duke Yates, look to reclaim what has been lost for centuries. But a legendary diver, whom Gage trusts implicitly, offers phony advice to preserve a family secret, and a disgruntled and ruthless former sea captain will stop at nothing to find the treasure first. $0.99 on Kindle.