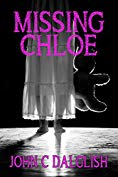 On a warm summer evening like so many others, Jack Richardson comes home to learn his little girl is missing.
Though Jack and his wife Sarah have no way of knowing it, they're at the flashpoint of an inferno that will leave everyone and everything within their idyllic life scorched beyond recognition.
Suspicion, betrayal, and murder will burn through the lives of everyone who is MISSING CHLOE. $3.99 on Kindle.