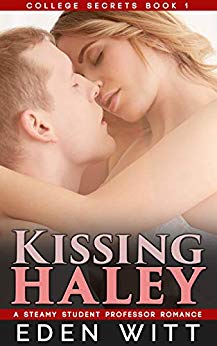 Good girl Haley collides with by-the-book professor Cameron when one moment of overheard passion wipes away her inhibitions.
Haley's crush on her handsome boss and professor is nothing more than an innocent fantasy. Until one night, alone in her bed, something shatters the wall restraining her own carnal needs. She's heard her best friend and roommate Allie have sex a hundred times in the room next to hers. It usually amuses her. This time it breaks her.
Desire floods out in a torrent, sweeping up friends, strangers, and one Cameron Little. Her boss. She's wanted him since the first time she saw him. Now she needs him. She has to have him. Can she break through Cam's own restraints before her newfound needs push her over the edge?
Kissing Haley is a novel-length erotic romance of approximately 56,000 words. It's the first book in the steamy College Secrets series based in the fictional campus town of Oaklun. Each book is a standalone story with a cast of continuing characters. All titles are safe, with no H/h cheating and a HEA guaranteed. $0.99 on Kindle.