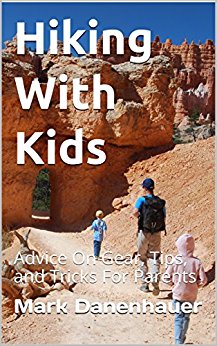 Hiking With Kids is a great resource for novice hikers or those that have hiked before, just not with kids. This book is full of everything someone new to hiking with children needs to know, such as essential gear to take, how to find kid-friendly hiking trails, how to avoid getting lost, and how to keep kids entertained and moving on the trail.
Mark Danenhauer uses his personal experiences taking his kids hiking throughout the world to give practical and helpful tips to make it fun for the whole family. He began taking his children hiking in the Rockies as infants. Now as 8 and 10-year-olds they are taking multi-day hikes in Nepal and New Zealand.
Specific tips, tricks, and gear are given for different age children. This age specific advice is aimed at making hiking with children fun at any age.
Hiking as a family can be an incredibly rewarding and bonding experience. However, that doesn't mean that it is always easy and joyous. Similar to anything a family does together, there can be moments that are challenging. Luckily there are tricks that can help increase the fun times and limit the unpleasantness. $0.99 on Kindle.