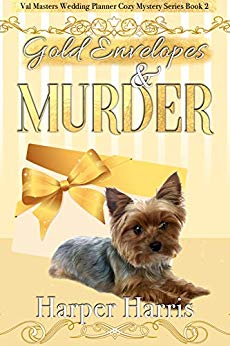 A dead Best Man. A high profile crime. And a murder charge against the wedding planner.
Things never seem to go right in Buckingham Downs, a quaint coastal resort town in California, where when the rich get married, it's a billion-dollar business. Things certainly aren't going right for Valerie Masters, her clingy Yorkie, Buttons, and her wedding planning business. It's a new wedding and a new batch of clients: a meek bride, a reluctant groom, a controlling mother of the bride, a young step-father, and a whole bunch of secrets.
But before anyone can walk down the aisle, Val is accused of murder. Murder of a man she only met once and barely talked to. The police are throwing crazy theories at Val, trying to get her to confess. Her only hope is her best friend Sebastian's rich uncle, Wellington Brown, a famous hotshot L.A. lawyer. With so many accusations against her, Val has to find the real murderer before she ends up in jail. But her options are limited, and the detective whom she hoped would always be at her side seems ready to betray her as well.
With possible corruption in the air and the media convinced she's guilty, Val feels like the verdict is decided before she can even get into the courtroom. With the bride and groom on her side, can Val investigate a murder and pull off a high-profile wedding at the same time?
Will the bride make it down the aisle before Val lands in jail for good? Or will Val's wedding planning days be as brief as her chance at freedom?
Gold Envelopes & Murder is a full-length cozy mystery novel. It is Book 2 in the Val Masters Wedding Planner series, which can be read in any order and are best enjoyed together. $3.99 on Kindle.