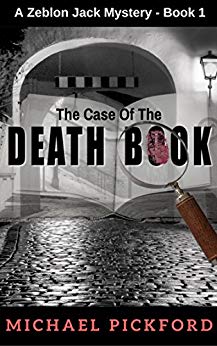 Award-winning author Michael Pickford brings us a delightful new series about a teen lawyer with Holmes-like powers of observation.
Samuel Hickson moved from Chicago to Tennessee to attend college. He sought a new roommate because he couldn't bear to live another week with a bunch of rowdy party animals.
Samuel's neighbor introduced him to a strange young man named Zeblon Jack. Zeblon was a child prodigy who by the age of eighteen had completed law school and passed the bar. He was also a loose cannon with no qualms about breaking the law to bring out the truth.
On their first meeting, Zeblon recited the movements of Samuel's morning with precise accuracy by merely taking note of a few minor details about Samuel's appearance.
Samuel learned about the murder of his Hebrew professor. The police arrested one of his good friends for the murder. Zeblon got involved and led straight-laced Samuel into risky and exciting adventures as they worked together to solve the crime. Free on Kindle.