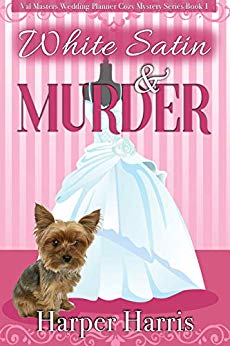 A missing fifty-thousand-dollar wedding dress. A clingy Yorkie. And a dead Maid of Honor.
It's the first wedding Valerie Masters has ever planned and the start of her new business.
There's money flowing in Buckingham Downs, California, a small coastal town largely taken over by the rich, where weddings are a billion-dollar business. Val works tirelessly to make sure this one- the very first that she's been hired to plan- is perfect, juggling a temperamental florist, a diva cake baker, and a self-obsessed DJ who's threatened to walk off the job if the Chicken Dance is requested.
Not to mention the biggest Bridezilla Val has ever seen, the bride's "unique" family and snooty Maid of Honor.
Starting a new business is hard, and this first wedding is turning out to be more than Val bargained for. Right before the wedding, Val finds the Maid of Honor dead and the expensive, one-of-a-kind wedding dress missing!
Now, on top of getting a hitch-filled wedding to go off without a…well…you know, she has no choice but to solve this mystery. No wonder half of all new businesses fail!
The stakes couldn't be higher. This socially influential family has already threatened to ruin Val if any part of the wedding is ruined.
But who among this motley cast of characters could be a murderer and a dress thief? And will Val figure it out in time to pull off the perfect wedding? Or will her business crash before it's even started?
White Satin & Murder is a full-length cozy mystery novel full of humor, intrigue, and an adorable furry friend named Buttons. It's the first book in the Val Masters Wedding Planner series, which can be read in any order and are best enjoyed together. $0.99 on Kindle.