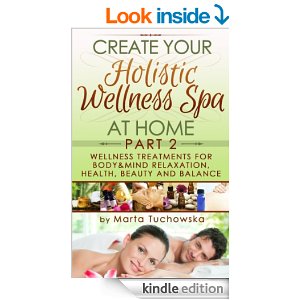 Natural Wellness Therapies: Aromatherapy,Relaxation Techniques, Mindfulness, Detoxifying Diet And Facial Holistic Massage- Your Holistic Wellness SPA. Professional tips from your SPA therapist!
Are you a SPA lover? Do you enjoy aromatherapy, massage, natural therapies and holistic relaxation?
Would like to be able to access your favorite SPA treatments at home, any time? Are you looking for affordable SPA therapies for  WELLNESS and HEALTH?
Create Your Holistic Wellness Spa At Home will teach you some very handy relaxation techniques including natural beauty treatments and relaxation therapies. When it comes to HOLISTIC WELLNESS- you are your own boss. You decide when to relax and when to get pampered.
 Don't choose stress. Choose holistic therapies. For your Body and for your Mind!