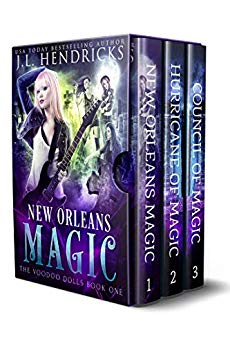 It's Josie and the Pussycats meet New Orleans!
This action-packed boxed set is full of vampires, shifters, witches, and humans who just want to be normal and get a recording contract.
When Jenna, the lead singer of The Voodoo Dolls, learns the hard way that magic IS real, she and her three adopted sisters are thrust into the magical underbelly of The Big Easy.
Learning about vampires, wolf shifters, and witches is more than they can handle on their own. When a friend of theirs goes missing, they accept the help of the local wolf shifter pack and a sexy vampire in order to save their friend from a fate worse than death. $0.99 on Kindle.


[shareaholic app="share_buttons" id="4690042"]