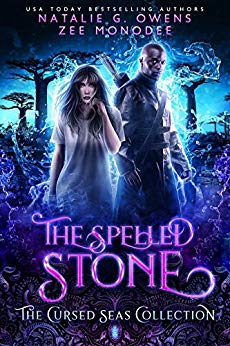 To secure a future for her ocean world, one of her clan must be sacrificed.
Olinda "Ollie" Quorin is the heir to a dying Siren dynasty. However, when word comes that a Legacy Stone can save their deteriorating ocean, the clan elders choose her—the klutzy, expendable one—to make the quest, despite her royal heritage. After begrudgingly traveling to the surface, Ollie botches a spell and binds herself to a reluctant human male.
Kavan Daniels has learned to survive on the treacherous lands and coasts. He's prepared for everything except the Siren he can't escape. Ollie needs a Mage to find the location of the Legacy Stone. Kavan needs the same Mage to break free from Ollie.
As they struggle against time to find the stone, they face conflict, danger, the monsters of their nightmares, and the complications of their unlikely pairing. Death is on their heels at every turn, and saving Ollie's clan, as well as the surface world, may mean losing her own life. $0.99 on Kindle.