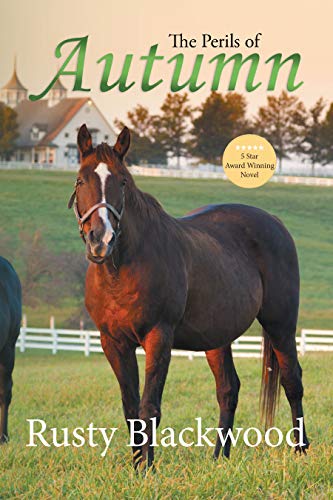 From the author of the riveting romantic fiction drama, Passions in Paris: Revelations of a Lost Diary, and the celebrated, 5-star award-winning romantic fiction drama, Willow's Walk, comes the intense romantic drama, The Perils of Autumn.
This page-turner, set primarily in the early 1970s, centers on a young Kentucky woman, Autumn Leeves, born in 1946 to Abigail Leeves, an unwed mother who struggles to make ends meet. By 1970, Autumn graduates nursing school and is sent on assignment by the local hospital to care for the terminally-ill wife of middle-aged English equestrian master, Cyril Landon, owner of Landon Lawns Stables, a most successful thoroughbred racing stable located just outside Lexington, Kentucky in a posh community known as The Meadows.
Duff Taylor, world renown jockey who is tops in his field, lives full-time above the tack room at Landon Lawns and enjoys the many benefits it brings, but he also has a dark secret surrounding an unsolved racing incident from his past that he will go to any length to protect.
Autumn arrives in Landon Manor in time to be thrown into the fray and finds herself caught in the ongoing disruption that ensues.